Spa Holidays at Lake Chiemsee
Ising Spa & Wellness is our newest building. Opened in July 2011, facilities include a swimming pool, private spa area, 8 timelessly attractive treatment rooms and the largest outdoor whirlpool in Germany.
Hotel residents and non-residents alike can take advantage of a range of spa & wellness packages and wellness specials to enjoy the excellent facilities.
Treat yourself to some time out or a complete spa holiday, enjoy the therapeutic warmth of our sauna complex, the attractive indoor and outdoor pool areas or let yourself be pampered from head to toe by our well-qualified spa team. You can order refreshments, snacks, freshly baked cakes or iced coffee at the pool bar in Gut Ising Spa & Wellness.
To book treatments and packages, please contact our spa team:
Tel.: +49 (0)8667 79 252 or by email: spa@gut-ising.de

Opening Times:
Gut Ising Spa & Wellness is open daily from 06:00 - 22:00 hrs.
Pools: 06:00 - 22:00 hrs. The indoor leisure pool is always available from 06:00 hrs; in winter, the outdoor pool is available from 08:00 - 22:00 hrs.
Sauna complex: 09:00 - 22:00 hrs
Pool bar: 12:00 - 20:00 hrs
Treatment: 09:00 - 19:00 hrs
Day Spa at Gut Ising
For a day price of €35.00 per person you can use the indoor leisure pool, whirlpool, outdoor pool, sauna complex and gym at Gut Ising Spa & Wellness for the day.
To reserve your Day Spa and to assist us in planning, please give us a call on +49 (0)8667 790.
During Bavarian holidays, the Day Spa for non-residents is only available on request and subject to availability.
We will be pleased to provide bathrobes, towels and bathing shoes. For this we make a hire charge of €10.00 (bathing bag incl. 2 shower towels, 1 pair of bathing shoes, 1 bathrobe). Should you require just a bathrobe, you can hire a Gut Ising bathrobe for €5.00
---
The 2,500 m² spa complex includes:
Indoor leisure pool with whirlpool
Outdoor pool with sun-deck
Steam room
Herbal sauna
Finnish sauna
Pool bar
1 room for Ayurveda treatments
Relaxation room with waterbeds, panoramic windows and fireplace
Excellently equipped gym
Beauty centre
8 treatment rooms
1 treatment room for couples
Two 100m² Spa Suites
---
Impressions of Gut Ising Spa & Wellness
Let yourself be transported into a wonderful world of wellbeing at Gut Ising Spa & Wellness.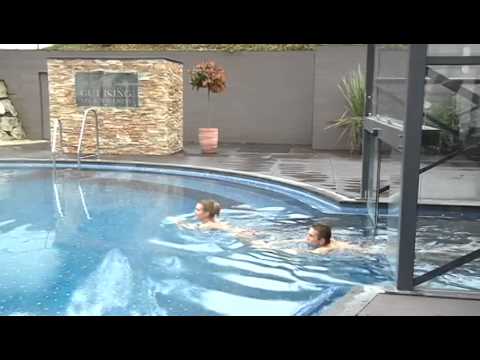 ---
Sauna Complex - Wellbeing for body and soul in Bavaria
Finnish sauna: 90 C
Steam room: 45 C
Herbal sauna: 60 C
Opening times: Daily from 09:00 – 22:00 hrs.
Wednesdays: From 18:00 - 22:00 hrs - Ladies Wellness Afterwork with scrubs and organised sauna infusions (not during Bavarian school holidays).
---
Like Ising Spa & Wellness, our fitness room is equipped with the very best equipment from TechnoGym. Irrespective of whether you wish to work out on our cardio equipment, or specifically build up and train your muscles on the butterfly and weights – our TechnoGym is available daily from 06:00 – 22:00 hrs.
With the help of high-end equipment, Gut Ising offers you the opportunity of doing an effective personal training session and power workout - ask for our fitness programme at our spa & wellness hotel in Bavaria.
1 cross trainer
2 treadmills
2 bikes
1 weight bench
1 butterfly
Keep-fit wall
---
Quiet Relaxation Room
A place for relaxation
Our relaxation room is bathed in natural light and is the perfect place for deep relaxation after your treatment or massage.
Good-sized water beds, a fireplace and invigorating "Ronnefeldt" teas complete your wellness experience here in Chieming(Bavaria). There is a selection of refreshing and delicious teas from this renowned tea producer.